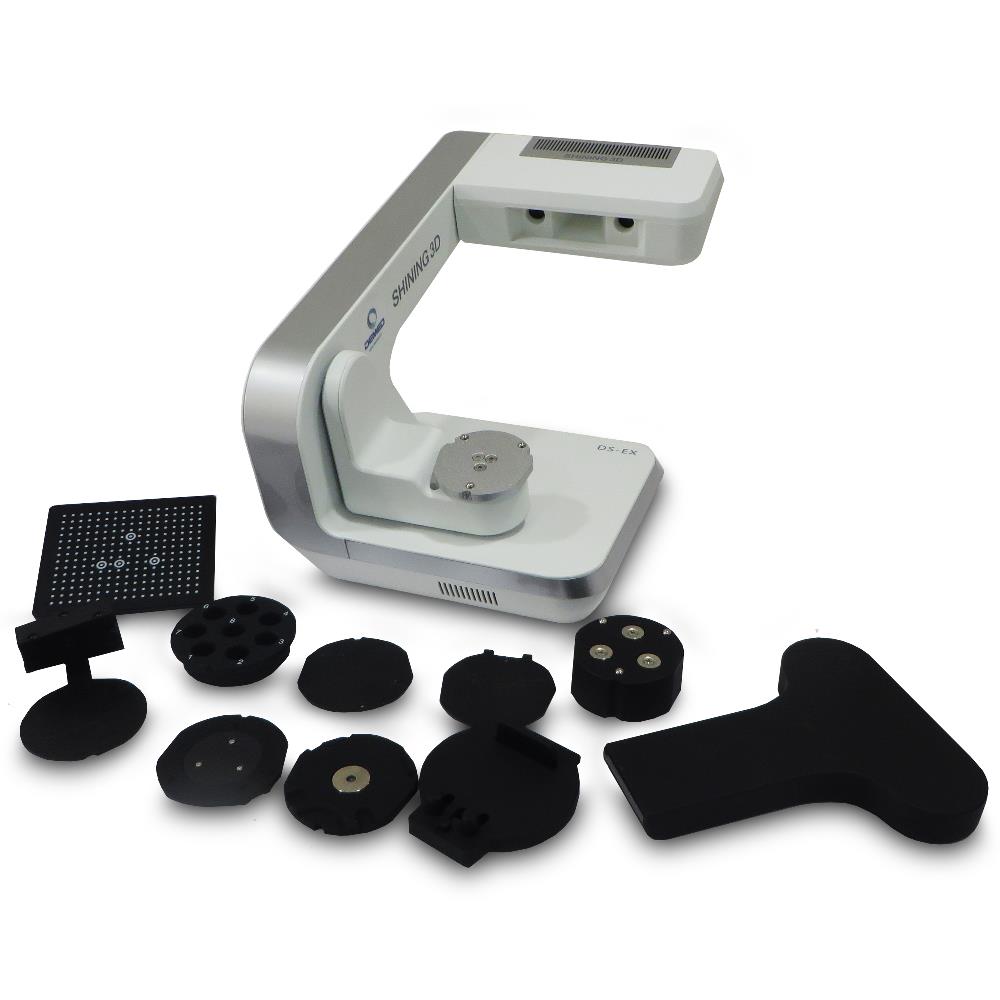 The DS-EX from Shining 3D is the most cost-effective way for a dentist to get into a digital workflow. Uses include:
Scan dental impressions to create 3d printed designs
Scan impressions or models and design with Exocad
Scan impressions to outsource zirconia restorations
Scan pre and post-impressions to easily design digital temporaries
Scan fully articulated cases on articulators due to open scan area
Scan dentures to create digital dentures or implant-case immediate hybrids
Scan triple-tray impressions to capture bite and impression data at the same time
Scan past client models for archiving
The DS EX includes a variety of holders which allow scanning:
Articulators such as Artex, KAVO, SAM, etc.
Stone models and impressions
Individual dies
Triple-tray impressions
Other feautres include:
Texture scanning of notations and marks can be captured clearly
New computer interface that allows the simultaneous scanning and designing of restorations on multiple computers
Open modular design allows for easy upgrades not requiring the purchase of new scanners every few years
Open structure allows easy set-up and cleaning
Small footprint makes it ideal for either chair-side dental clinic or dental laboratory
Open source software allows scans to be designed using exocad software and software requiring OBJ files
Autoscan DS-EX Specifications
| | |
| --- | --- |
| Camera Resolution | 1,300,000 mega pixels |
| Accuracy | ≤ 15 μ m |
| Scanning Range | 100mm X 1000mm X 75mm |
| Operating Temperature | 50°F – 86°F (10°C – 30°C) |
| Dimensions | 10 X 10.5 X 16.5 in |
| Weight | 11 lbs (5Kg) |
| Output Format | STL, OB |
| Interface | USB 3.0 |
| Power | 24v |
Autoscan DS-EX Videos
Sample Scans
To explore these sample scans, use your mouse roller to zoom and click and drag to change the perspective.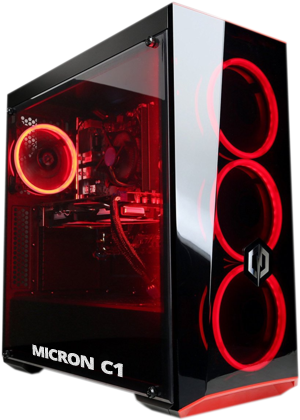 The Micron C1 computer is ideally matched to our current generation chairside scanners and printers. This computer is a fully optimized for scanning and printing operations.
System Specs
CPU: Intel Core i5-7400 3.0GHz, 4 processors
Chipset: Intel B250 Express
Memory: 8 GB DDR4 ADATA RAM 2400 MHZ, expandable to 64 GB
Hard Drive: 1.0 TB 7200 RPM, Serial ATA-600
Power Supply: 600 watts
Advanced Graphics
AMD Radeon RX 580 4GB Video Card
One HDMI port
Three DisplayPort ports
Ports and Connectivity
Six USB 3.1 ports, two on the front, four on the back
One USB-C port on back
Two VR-ready SS ports
Two USB 2.0 ports
One RJ-45 Network Ethernet port 10/100/1000
802.11AC Wi-Fi adapter
Audio: 7.1 Channel
Headphone and microphone jacks on front
Software
Warranty
4 Years Parts & Labor
Free Phone Tech Support
Dimensions
Weight - 28 lbs
Size - 18.5" high, 8" wide, 18" deep
Additional Features
The Micron C1 was especially configured for flexibility and growth.
Memory Expansion: This computer has four memory slots, two of which are filled with 4 GB memory cards. To upgrade to 16 GB, just add two more 4 GB cards. Each slot can hold up 16 GB of memory, so you can configure this computer for 4GB, 8GB, 16GB, 24GB, 32GB, 48GB, or 64GB. 8GB of RAM is probably more than adquate for most scanning and 3D printing uses, but if you are using this computer for other applications, you may want to consider a RAM upgrade.
Hard Drives: The included hard drive is in a removable bay, so it could be swapped out at boot time within minutes. The motherboard has four SATA ports so it can handle four drives, and there is also a second slot setup for an additional drive. You could setup a permanent SSD boot drive in the second bay and use the removable bay for cases, so in addition to maintaining backups, you could replace the removable drive every year or so with a new drive (archiving old drives in an offsite fireproof safe, etc).
Graphics Expansion: The graphics card in this computer will remain state-of-the-art for several years, but since it is in a standard graphics port, you should be able to upgrade graphics later if you want to use this computer for more complex design work. There is plenty of room in the case where they graphics card is located to install even some of the most over-the-top cards. We believe that the Micron C1 is more than adequate for most dental scanning and 3d printing uses, but if your primary use of the computer is as a design station for complex implant cases, we recommend that you start with the Micron C2 version of this computer that comes packaged with more advanced dental design software and includes an i7 processor with twice as many processors and a somewhat faster Nvidia GTX 1060 graphics card.
Multiple Monitors: There is one HDMI port plus three DisplayPort ports, so you can run a second or third or even fourth monitor. If needed, we can provide DisplayPort to HDMI, VGA or DVI adapters. Make sure you hookup to the second monitor to the graphics card ports which are above the motherboard ports (they are disabled). Also, you should be aware that additional monitors will slow down your graphics card because of all of the additional graphics processing required, so don't add unless they are needed.
Wireless WiFi: A very fast 801.11AC wireless WiFi USB adapter is included, but you will get faster speeds if you connect the ethernet directly to a router.
Other Questions
Are the Fans Loud? No, in spite of having four super-powerful fans, they are remarkably quiet.
Does it Support Freesync? Yes, the AMD graphics processor has Freesync capabilities, so if you match a freesync monitor with variable refresh rates, you should get seamless video performance (no stuttering or screan tearing, etc).
Can you turn the red fan lights off? Yes, when the power is off, you can disconnect the lights.
Can you upgrade to 4K graphics? Yes, you can upgrade to an AMD 580 card, but our experience is that 4K graphics can be much slower because there are four times as many pixels to process, and the user interface (menus, icons) can be very difficult to view or even click on with all but the largest monitors. If you need or want more screen real estate and don't want to add a second monitor, the graphics card on the Micron C1 is capable of doing 1440p graphics if you have a monitor that supports the higher resolutions.
Which antivirus should I use? We recommend that you use this computer solely for scanning and printing, not for internet surfing, etc. Some antivirus software could slow down the computer and could interfere with design and scanning capabilities, so talk to use before installing something new.
Can I upgrade the CPU to an i7? The motherboard is a B250 class board with a LGA 1151 socket, so it will accept any current generation i7 processor. However, if you need a faster processor (not required for scanning or printing), we recommend the Micron C2 computer which includes an i7 processor with twice as many CPU cores and a faster graphics card.
Does the computer include bluetooth? No it does not, but it can easily be added to a USB port.