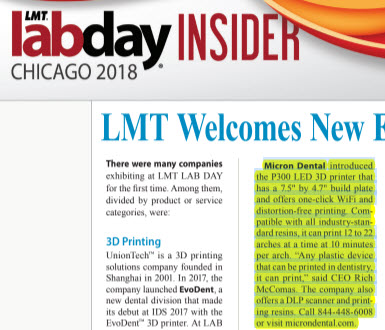 Micron Dental was featured in a product focus profile for our new S300 Fast Desktop Scanner on page 39 of the March 2018 issue of LMT Magazine.
S300 Fast Desktop Scanner
MICRON DENTAL's new S300 Fast Desktop Scanner produces sub-10-micron-accuracy scans at nearly twice teh speed of the company's previous generation scanners (dies now at four seconds each, full archas as fast as 18 secons). By incorporating an advanced full-spectrum DLP projector, it can also work with all model and most impression materials without spray. Standard features include texture scans, all-in-one scans and impression scans. The company also offers fre lifetime support.
844-448-6008, 480-448-6008
This email address is being protected from spambots. You need JavaScript enabled to view it.
microndental.com