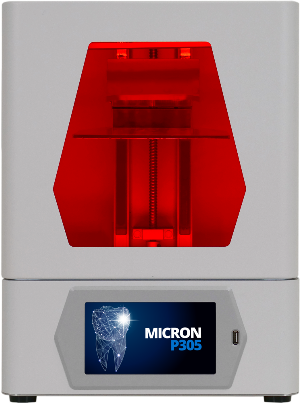 "Largest desktop build plate plus the most accurate distortion-free prints available in dentistry."
The Micron P305 Dental 3D Printer is an entirely new technology in 3D printing, offering both the largest build area and the most accurate printing available in a desktop solution. With existing 3d printer technologies (laser and dlp), as you increase the build area, you lose either accuracy or speed or both. The P305, however, employs a new masked LCD light engine technology that addresses this fundamental problem with 3D printers.
7.5" x 4.7" build plate
Distortion-free prints
12 to 22 arches per run
As fast as 10 mins / arch
100% open solution
10 - 200µm Z layer height
<10µm tolerance/accuracy
75µm XY min feature size
Remote monitor / camera
CNC milled components
Twin linear guide rails
Ballbearing boltscrew
Industrial cooling fans
WIFI wireless printing
20% build / footprint ratio

High contrast 2K LCD
Omron optical endstop
Extended life teflon tank
Aviation-grade aluminum
LCD info / status pane
One-click printing
Print from any device
Monitor from any device
Works with 405nm resins
Z build 1-2 cm / hour
Speeds > 400 cm3 / hour
Build-size LED array
14"W x 12.5"D x 18.25"H
45.5 lb, 110 V
Free lifetime support

The table below compares some of the new features of our P300 Dental 3D Printer to the Formlabs Form2 sold by Henry Schein and the Sprintray Moonray D sold by Patterson Dental.
Comparison of
leading desktop
3d dental printers
Printer model compared
MICRON
P305
Formlabs
Form2
Sprintray
Moonray D

Lens distortion issues

Light source technology

UV LED
Laser
DLP

Build plate size (inches)

7.5x4.7"
5.5x5.5"
3.8x2.4"

Z minimum height resolution

10µm
25µm
20µm

XY minimum feature size

75µm
140µm
75µm

Volume per hour (100 µm layers)

410 cm3
42 cm3
138 cm3

Desktop footprint (inches)

12 x 14"
14 X 13"
15 x 15"

Actual build area to footprint ratio

20 %
18 %
4 %

100% open, resins and settings

One-click WIFI print (any device)

Twin z-axis linear guide rails

Remote monitoring / camera

CNC'd aviation-grade aluminum

Free lifetime support

Retail price

Bundle

$3,499

$3,999