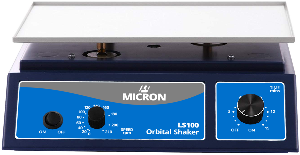 The MICRON LS100 is a customized medical-grade rotational lab shaker used in 3d printing to:
Wash printed parts in an alcohol bath
Mix resins prior to use
For biocompatible resins, it is important that you wash in two baths, one in a "dirty" bath that may have been used with other resins, and a second wash in a clean bath that has ONLY been used with a prescribed resin. Follow the resin manufacturer's specifications for washing. Underwashing or overwashing can lead to improperly cured or sized final prints and loss of detail.
The LS100 sells for $180 + $20 S&H. A complete mix/wash starter kit is also available for $290 + $35 ($350 value):
(1) LS100 Rotational Lab Shaker
(2) Large IPA Wash Boxes (9x6.5x6.5")
(2) Medium IPA Wash Boxes (8x5x5")
(6) Quarts of 91% alcohol
(12) OSHA Chemical GHS Labels for IPA
(1) Folding Print Removal Blade
(1) IPA Tool Kit including Tongs, Rubber Mat, Tool pen, and more
For our wash boxes, we use special kimchee containers imported from Korea because they have been proven to keep to have chemical-resistant seals and because they are air- and liquid-tight, keeping the alcohol smell to a minimum.
Specifications:
Workin Area - 14 x 14 x 11"
Platform Size - 12 x 8.5"
Radial Movement - 1"
Rotational Speed - 0 to 200 RPM
Shutoff / Ring Timer - On, Off, 3 - 15 mins